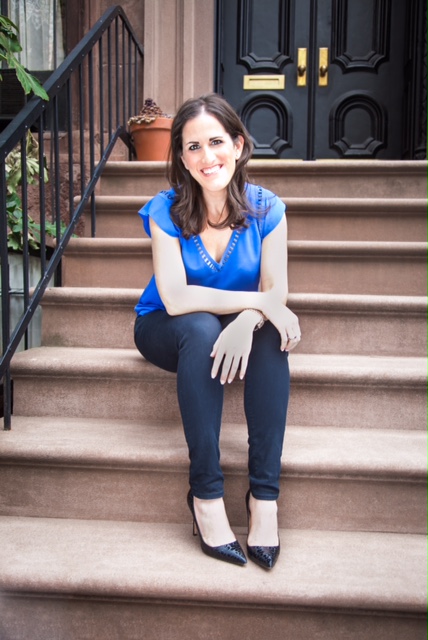 Now and then, I interview individuals who are doing something interesting, inspiring, and entrepreneurial – whether they are pursuing a particular interest, starting a non-profit or business venture, or somehow paved their own way to personal success and happiness. We can all learn from one another on how to better become leaders in our own lives, and I hope you find these conversations as inspirational as I do…for this week, I interview Sara Beth Zivitz, who was a college classmate of mine and is now a Broadway producer (in addition to having a day job!). She is currently co-producing IT SHOULDA BEEN YOU, which is directed by David Hyde Pierce and has received stellar reviews. Just last week, it was noted as one of the best performances on the Tony Awards Show, and you can watch it here.  If you are in NYC and would like to attend, visit Ticketmaster and use promo code FNF15 for a special discounted ticket offer.

1. When we serendipitously sat next to each other at dinner a month ago, I was SO curious and fascinated about how your academic endeavors and professional career led you to producing on Broadway. You're a graduate of Duke University and HBS, and are currently a co-producer for the Broadway show "IT SHOULDA BEEN YOU," a new musical comedy staring Tyne Daly and Harriet Harris.  Was it a circuitous route? How did this latest endeavor come about? My path to producing was certainly not circuitous but it also wasn't planned in any way. The catalyst was a chance meeting with the wonderfully prolific producer Daryl Roth with whom I have now worked on 5 shows in some capacity. We met at a theatre event one evening and spoke for a while, after which I simply asked her if we could have coffee in her office so I could learn about the business. She was incredibly generous of spirit and time and the rest is history. I once had a boss/mentor tell me to remember that "asking is free," and I always keep that top of mind. It pays off. Alongside developing a relationship with her, I also immersed myself in the business, reading everything I possibly could and taking several courses in the fundamentals at the Commercial Theatre Institute. Through CTI, I met many others in the business and began to build a network of people with whom I may work on future productions.
Speaking of which, I am just beginning to work on a new show called ALLEGIANCE which will open at the Longacre Theatre on Broadway in November. Inspired by the true-life experience of its star George Takei (Star Trek), ALLEGIANCE follows one family's extraordinary journey in this untold story of the experience of Japanese Americans living on US soil in the wake of the Pearl Harbor attacks of 1941. It is a beautiful musical and an important story to tell.
2. I love the show's tag line "You'll laugh. You'll cry. You'll be home by ten." Why did you choose to co-produce this show? What makes it so special for you? Well, I certainly have a flair for the comedic and I love shows about families because we all have one and they are all crazy. What is more relatable than that? And, IT SHOULDA BEEN YOU is bursting with heart, too. I saw SHOULDA at the George Street Playhouse in NJ in November 2011 right after I met Daryl. She was producing it as a developmental, pre-Broadway run and sent a friend and me to see it. I loved it instantly. I identify very closely with Jenny, the older sister of the bride, so this show was a natural for me. And, in a perfect example of life imitating art (or is it the other way around?), my own little sister is getting married this fall. I am, of course, the maid of honor.
3. I know you go to an amazing number of shows per year, which is incredible. When and how did your interest in theater develop? Was it something you pursued in high school and college, and if so, how? I see about 80-100 Broadway/Off-Broadway shows per year and love encouraging others to attend with me. I was in school plays as a little kid (before I developed stage fright!), played the flute and sang in the chorus in middle school but didn't pursue anything beyond that. I wasn't the typical drama club kid, however. I always went to the theatre with my parents a lot growing up and then spent an entire semester during my junior year at Duke on a theatre/arts program in NY. We saw over 80 performances that semester! That is when I really got hooked.
4. For a young woman – perhaps a recent college grad – wanting to work in the theater industry after college, what advice would you give? What would be something you wish you would have known before doing so? Truthfully, I would give similar advice to a young man or young woman looking to enter any business.Don't be afraid to ask people in your circles to help you with introductions to someone in the business. Theatre people are generous and want to nurture the next generation. I am asked to speak to (mostly) young women almost on a weekly basis and do my best to guide them and provide intros where appropriate. Educate yourself on the business as much as you possibly can and try for an internship to gain some practical experience and to make further connections. I always knew I wanted to work in theatre in some way but didn't plan when or how. Sometimes things just happen by chance. It is what you then do with that opportunity that matters.
5. In my recent book, The Myth of the Perfect Girl, I talk about how young girls and women often struggle with this pressure to live up to some preconceived standard of success. For creative individuals, the culture of perfectionism can be even more intense – and for a person who has attended highly selective schools and works in a creative field, it can often be debilitating. Do you ever deal with the external pressures of perfectionism, and if so, how do you deal with it? In IT SHOULDA BEEN YOU, there is a song called Perfect but also a lyric in that song reminding us all that nobody's perfect. I know it is trite, but with a lot on my plate, I simply aim to do the very best I can with the resources I have every day. If I have done so, I will never fail. In fact, I do not even believe in failure. That said, I am most definitely hard on myself and need to remember to give myself a break now and again. I had another boss/mentor (I have been fortunate to have several along the way and continue to today) tell me "you can have it all, but not at the same time." We all know this but it is good to be reminded that it is ok to make choices at different times in life.
6. What is one thing (or several things!) outsiders often misunderstand about the business behind Broadway productions? Or misunderstand about theater life in general? Even though a Broadway show may be perceived as a big blockbuster enterprise, they all begin as start-ups, established by a few passionate individuals who push the show forward and onto the stage by assembling a team of creatives, business partners and agency partners. It can take years, but it is rather rewarding. So, Broadway producers are all entrepreneurs who nuture their shows and will do anything to ensure success. We are a passionate bunch in a difficult business!
7. What is your favorite way to spend a New York day? Coffee. More coffee. Morning workout. Lunch at home. A Broadway (or Off Broadway) matinee. Post show cocktails. Dinner at a fabulous new spot. Sleep. Rinse. Repeat.
8. I can really appreciate how busy you are, juggling several different big projects at once. What keeps you sane in times of madness (or as I like to say, in the eye of the storm)? In other words, what are your healthy ways of dealing with stress? Oddly, I think I am even more sane the greater the level of madness. Having more on my plate helps me to manage it all better and to feel more motivated all around. That said, ironically, I find sitting in a theatre reduces stress as do exercise and sleep (which I do not do enough!). And, I love a great glass of red wine in good company
And now, for some fun questions:
Dream vacation: A couple of weeks on a peaceful and beautiful island with good food, good wine, good books and good company – not necessarily in that order
Breakfast staple(s): COFFEE (and then a refill). In the summer, a giant, colorful fruit salad, including sliced avocado. These days I have been enjoying avocado toast with (gulp) a fried egg on top.
Best movie of all time: This has changed throughout my life. Oddly, when I was a kid, I was obsessed with the Jaws series. When I got a bit older I loved (and still do) tried and true chick flicks like Steel Magnolias (I am southern, so…), Beaches, and Pretty Woman. Now, my favorites are almost always thought provoking, slice of life independent films – both comedies and dramas. I attend a few of the major film festivals each year which I love.
Favorite park in NYC: There is little better in NY than roaming aimlessly around Central Park whether jogging, walking, sitting on a bench, running into friends, or spending an evening at Shakespeare in the Park, one of my favorite annual traditions.
Last book you read for fun:  The Goldfinch
Best travel tip: Pack light. Don't over schedule.