For over two decades, Ana has focused on helping students discover practical solutions to promote purposeful learning. Her prescriptive solutions encourage better executive functioning skills, effectively address the culture of teen perfectionism, and provide real-life advice on how to navigate social media and technology overwhelm in an always-on digital world. Her sensible perspective is real, relevant, and adored by parents, educators and students around the world.
Erasing the Finish Line: The New Blueprint for Student Success Beyond Grades and College Admission
Ana's latest book highlights the essential skills students need to move beyond a prescribed path and truly thrive in school and life. AVAILABLE NOW.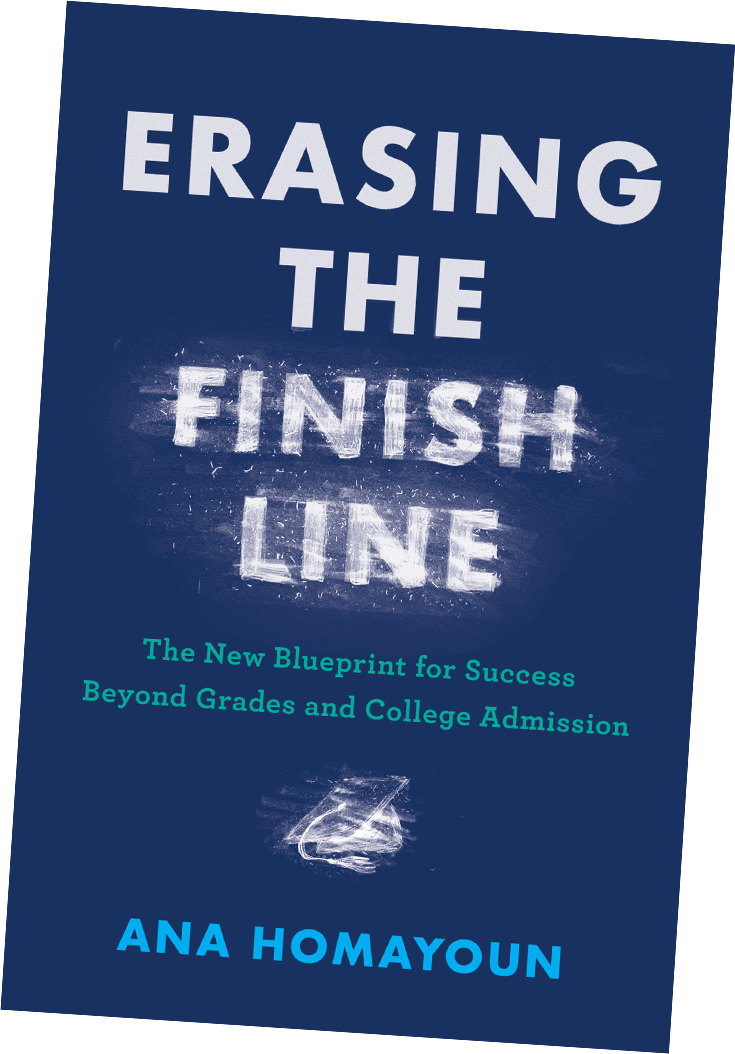 In addition to her work with Green Ivy Educational Consulting and Luminaria Learning Solutions, Ana regularly speaks at schools, corporations, and conferences worldwide.
Green Ivy empowers students to develop the executive function and life management skills —including organizing, planning, and prioritizing — needed to thrive in and outside of the classroom.
Luminaria is a non-profit initiative bringing the Life Navigator School Program, an advisory-based curriculum to public, private, and charter schools nationwide.
"I have had the pleasure of working with Ana for years. She has spoken to families, faculty, and students at my school, and each time I listen to her, I learn something new." 
–Tracy Fedonchik, Middle School Director, The Dalton School, New York, NY
"Thank you again for the fabulous faculty presentation this week. I just wanted to share my gratitude again... I appreciate having your deep expertise, clarity, and warm humor leading us through it!"
— Lorri Hamilton Durbin, Head of School, Town School, San Francisco, CA
"Ana has come to speak to our region twice in a four-month period. After her first visit, she was requested to come back by popular demand due to her depth of knowledge on working with teens and tweens and her positive message on easy interventions and strategies. She is personable, easy to work with, and leaves you with a growth mindset on how we can synergize with our teens and tweens to encourage healthy social media interactions.
Everyone who hears Ana's message asks 'When can she come back!?'"
- Lora Parks, Manager of Instructional Technology, Northeast Regional Informational Center (NERIC), Albany, NY
"Her rapport with students, parents and faculty is so empowering and I have found her to be very knowledgeable, empathetic and solution-oriented when it comes to students and technology."
– PARENT, American School of Dubai
"Ana is a dynamic, engaging speaker who accurately portrays the challenges teens face in a 24/7 digital world."
– MARGARET MILLER, (Retired) Dean of Students, St. Francis High School, Mountain View, CA
"Thanks Ana! I love your work and enjoy your newsletters. Thank you for doing this important work and inspiring me!"
– D. Tuttle
Mill Valley, CA
"Hello Ana! I had to tell you that [our daughter] came home absolutely raving about you. She absolutely loved working with you and your whole process and directive nature. She said that she's never learned so much and very empowered throughout the whole process!"
– Joanna C, Parent
Los Altos, CA.
"Thank you Ana! We loved having you at Santa Catalina."
– Christy Pollacci,
Head of Lower and Middle School, Santa Catalina School
"I am just finishing your book [That Crumpled Paper Was Due Last Week] and have been implementing lots of your suggestions in real time - and am seeing real time results. So grateful our psychologist suggested it to us. Appreciate the content on learning differences. Also love your gentle and calm reading tone (I am listening to the audiobook)."
– Melanie S., Toronto, Canada
INTERESTED IN BRINGING ANA TO SPEAK?