The Myth of the Perfect Girl
Helping Our Daughters Find Authentic Success in School and Life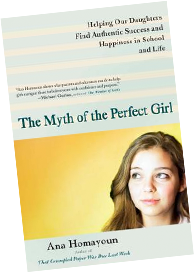 In today's achievement culture, many girls seem to be doing remarkably well — excelling in honors and sports and attending top colleges in ever greater numbers — but beneath the surface, girls are stressed and exhausted from striving to be "perfect." Their efforts to juggle schoolwork and extracurriculars, family and social obligations, as well as relationships online and IRL (in the real world), can make many girls lose sight of their own unique abilities. With honesty, empathy, and a fresh perspective, The Myth of the Perfect Girl presents advice to empower both parents and girls themselves to discover what true success and happiness means to them. This book offers practical, thoughtful solutions to promote the healthy social, emotional, physical and spiritual wellness of today's young girls and women.
"The Myth of the Perfect Girl challenges both girls and the adults who care about them to deeply reflect on the most important issues girls will face as they reach their full potential."
ROSALIND WISEMAN
author of Queen Bees and Wannabes
Download a free activity guide to accompany The Myth of the Perfect Girl.