That Crumpled Paper Was Due Last Week
Helping Disorganized and Distracted Boys Succeed in School and Life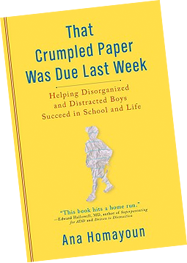 In That Crumpled Paper Was Due Last Week, Ana explains how she's encouraged even the most disorganized, scattered, and unfocused boys to become successful young people who consistently meet and overcome their personal and academic challenges. It starts with a simple fact: Most boys need to be taught how to get organized, how to study, and — most importantly — how to visualize, embrace and meet their own goals. With an approachable, no-nonsense style, Ana's book can be used by parents to identify their son's dis-organizational type, help him set goals that he is intrinsically motivated to meet, and aid him in managing social pressure and anxiety. Much more than a how-to guide, this insightful and user-friendly book provides a roadmap for the success too many boys have trouble finding in school and in life.
"That Crumpled Paper Was Due Last Week provides an innovative and practical approach to helping boys find success. Ana Homayoun presents straightforward, easily implementable solutions that will help transform the lives of boys and parents."
MICHAEL GURIAN
author of The Wonder of Boys and The Minds of Boys
Download free resources to accompany That Crumpled Paper Was Due Last Week: Our study schedule guide, and Taming the Distractions PDF.