"This book will come as a relief for every parent"
— Rachel Simmons, author of Odd Girl Out and Enough As She Is
"Thought-provoking"
— Kyle Schwartz, author of I Wish My Teacher Knew and I Wish for Change
"Smart, practical advice"
— Gregg Behr, co-author, When You Wonder, You're Learning: Mister Rogers' Enduring Lessons for Raising Creative, Curious, Caring Kids
"Timely and Important"
— Jeffrey Selingo, New York Times bestselling author of Who Gets In and Why and There Is Life After College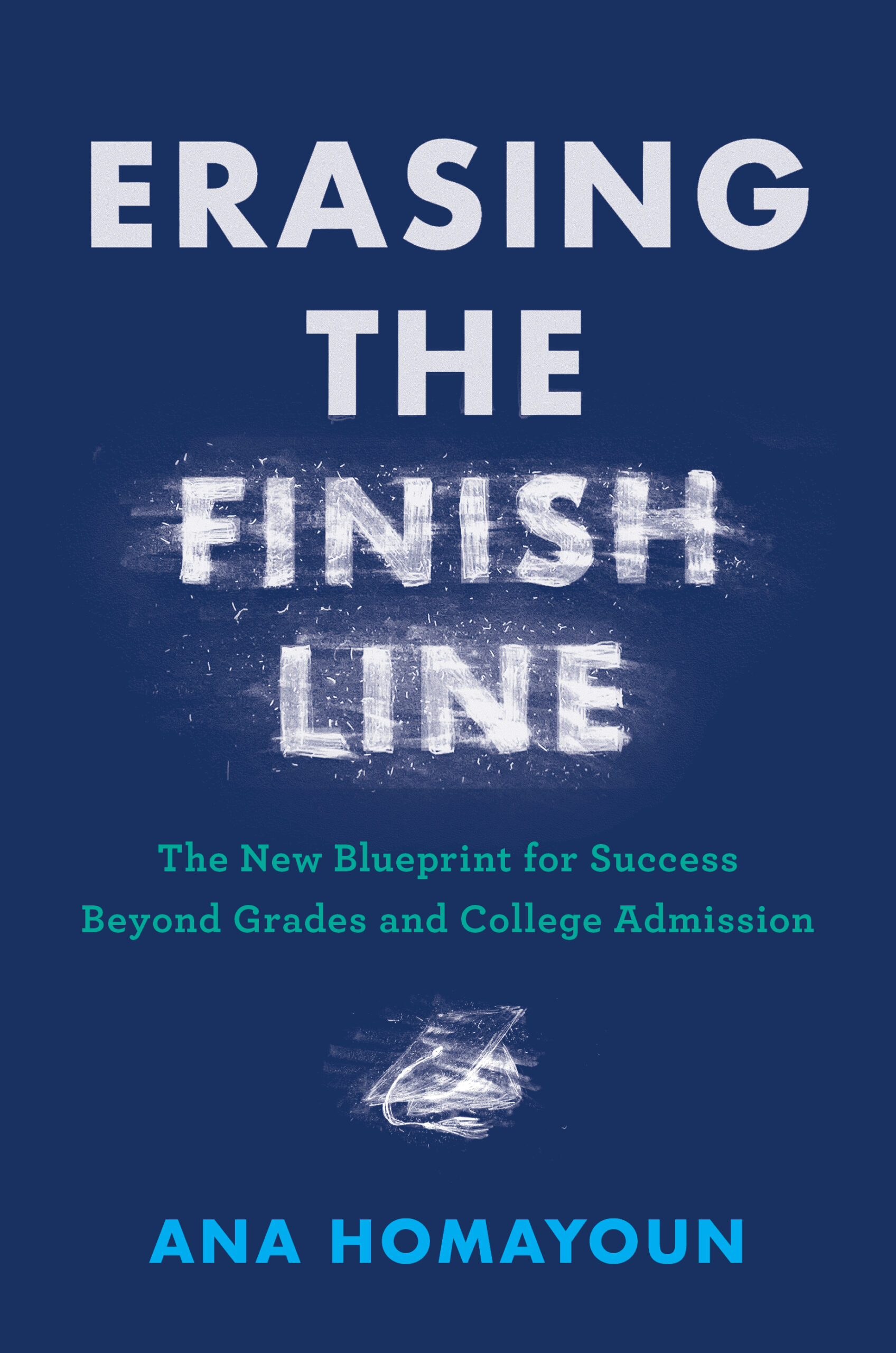 "A gift to parents, educators, and adolescents"
— Jessica Lahey, NYTimes bestselling author of The Gift of Failure and The Addiction Inoculation
"Eye-opening and compelling"
— Jordan Shapiro, author of Father Figure and The New Childhood
"Practical, extraordinarily empathetic, and a breath of fresh air"
— Anya Kamenetz, author of The Stolen Year and The Art of Screen Time
"Empowering, open-minded approach"
— Mary Laura Philpott, author of Bomb Shelter: Love, Time, and Other Explosives
Erasing the Finish Line: The New Blueprint for Student Success Beyond Grades and College Admission highlights the essential skills students need to move beyond a prescribed path and truly thrive in school and life.
Reflecting on over two decades of working directly with students around the world, leading academic advisor and early career development expert Ana Homayoun has written the book we desperately need.
Buy the book between now and September 5th, 2023 and be invited to an exclusive 60-minute live video call where Ana will share effective strategies to help students develop these essential skills in the upcoming summer months.
Extra bonus stories from Ana's former students, now in their 20s and 30s
Practical tips on what to focus on right now
30 minutes for Ana to answer any questions 
Early access to a reading guide and extra bonuses on the call!
Order now to get access to the bonus
(note: you must fill out this form to gain access):
Complete the form to receive your bonus pre-order offer
"*" indicates required fields
Word of mouth changes the world.
Like, love, and share to your friends and followers.
Is your school, organization or corporation interested in hosting an Erasing the Finish Line book talk? Get in touch.
About Erasing the Finish Line
With wisdom, humor and grace, Ana Homayoun shares the foundational skills that help kids reflect, adapt and redirect in a world increasingly different from the one their parents grew up in.
For years, we've been led to believe that great grades, high test scores and college acceptance are key to a successful life. Yet our laser focus on these achievements leaves students feeling anxious, demoralized and unprepared. 
What if we've overlooked the critical skills young adults need to navigate an ever-changing world? What fundamental skills help young people adapt, persevere and thrive? Academic advisor and early career development expert Ana Homayoun answers these questions and more in her accessible and solutions-oriented guide to transforming future generations. In her groundbreaking new book, Erasing the Finish Line, Homayoun flips the way we think about education.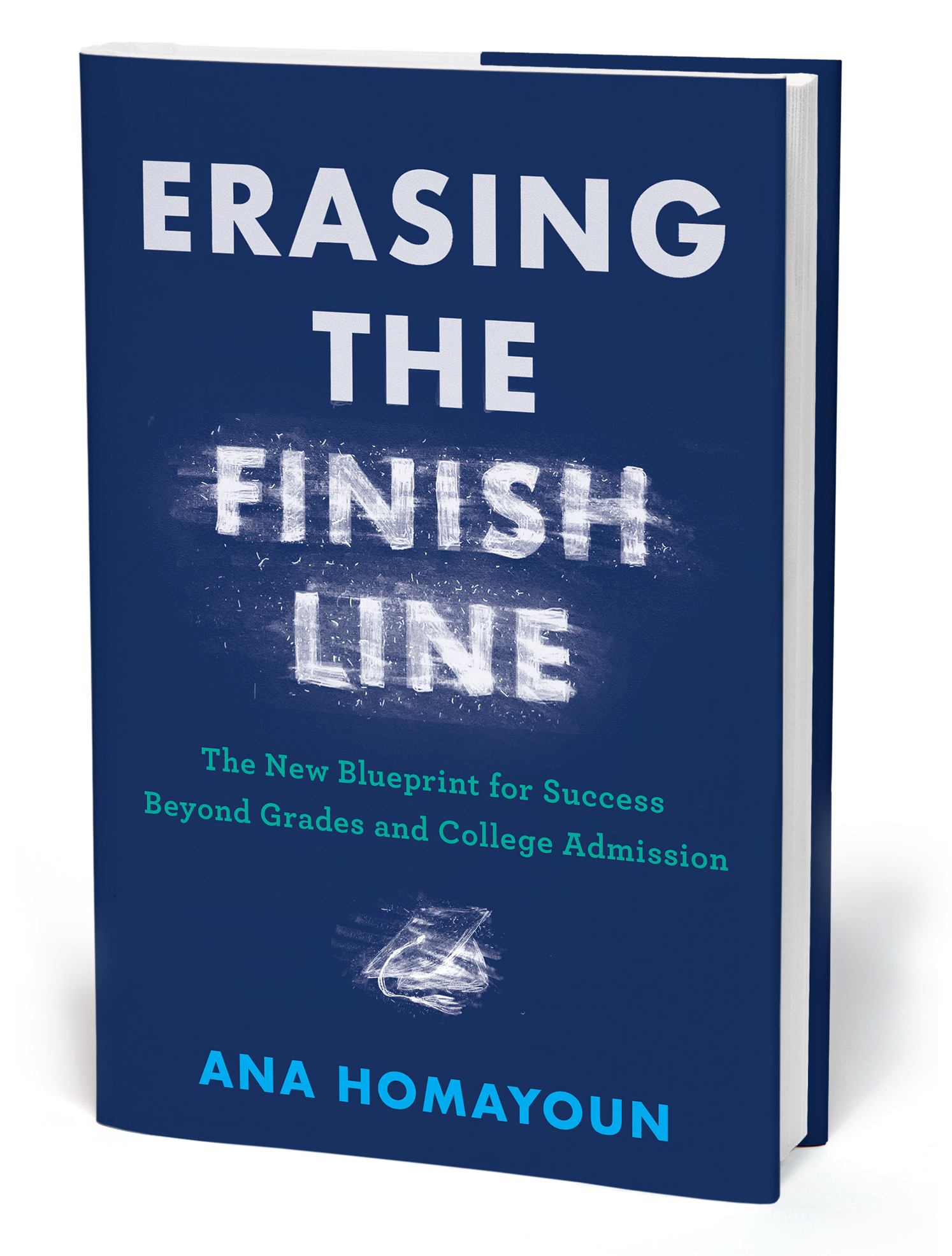 In this refreshing approach, Homayoun reveals new strategies to help each student develop their own blueprint for success, including how to:
Develop a system based on executive functioning skills

Build valuable social capital while fostering genuine connections

Identify energy profile and how to recharge

Expand perspective through immersive exposure

Remain adaptable in the face of disappointments and setbacks
Through a powerful blend of theory, strategies and storytelling from former and current students, Homayoun's layered approach to re envisioning education will bring sharp realization to parents, educators, and policymakers alike.
Praise For Erasing the Finish Line
Ana Homayoun is an academic advisor and early career development expert working at the intersection of executive functioning skills, technology and personal energy management. For over two decades, Ana has dedicated her life to empowering students and young adults to develop the foundational skills to  create their own blueprint for success. She is the founder of Silicon Valley based Green Ivy Educational Consulting and the founder and executive director of Luminaria Learning Solutions, a non-profit aimed at bringing her executive functioning and social emotional curriculum work to schools. She is the author of three previous books: That Crumpled Paper Was Due Last Week, The Myth of the Perfect Girl and Social Media Wellness.