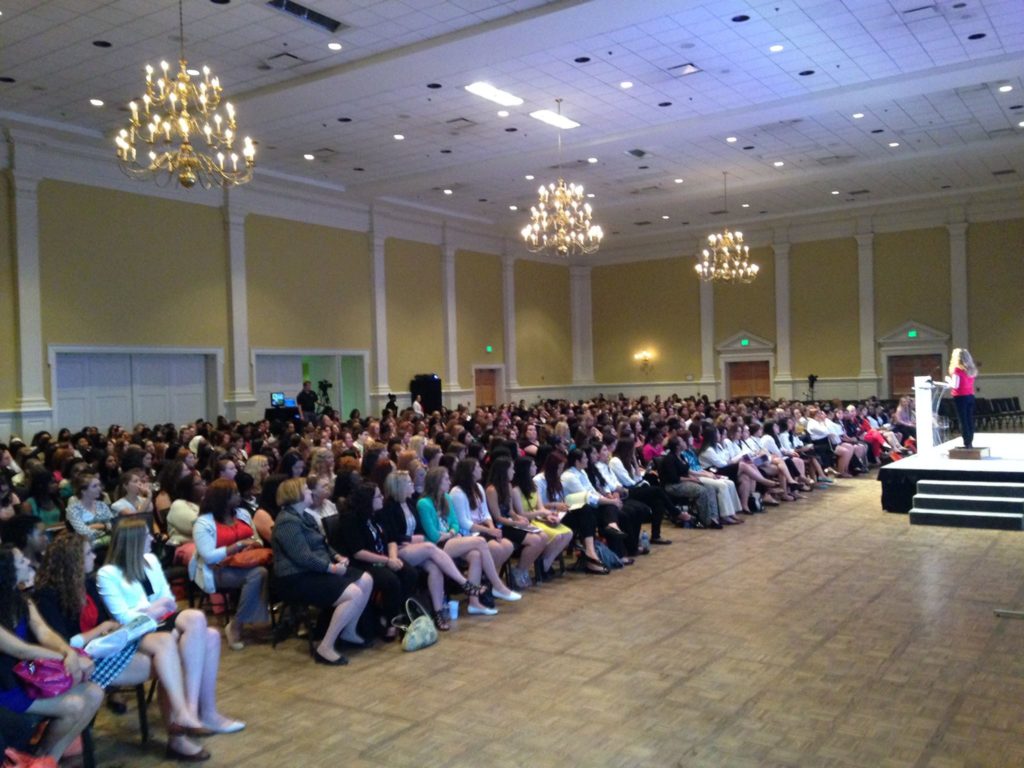 Last week, I traveled to Washington DC (and more specifically, the University of Maryland – College Park) to present at the National Conference for College Women Student Leaders. Boy, was I impressed. Over 900 young women from all over the country came together for an amazing three-day experience. On Thursday, Chelsea Clinton stopped by for a thoughtful conversation to open the conference. Friday was filled with workshops, including mine on Overcoming the Perfect Girl Myth: How to Overcome Pressures to Conform and Define Success on Your Own Terms.
For starters, my presentation was packed with several hundred young women, and the energy in the room was SO wonderful. And then I got a surprise – one of the young women in my workshop from last year, Donya, was my room coordinator this year – it's always nice to see a friendly familiar face.
Whenever I run an interactive workshop, there's always a lot of preparation and a little improvisation and audience reading going on. And this audience was the best possible one ever – engaged, open, and authentic. They shared their stories, made new friends friends, and had meaningful conversations with the people sitting next to them.
We brainstormed about our personal values, major distractions, stress relievers, and daily oasis points. Everyone brought something interesting to share. One young woman, Hailey Dykstra, shared the way she came up to stay positive in times of stress, and thought to share it here (thanks, Hailey, for coming up afterwards!):
P – Positive Attitude
O – One thing at a Time
S – Start Small and then Work to Big things
I – Ignore Distractions like Social Media and TV
T – Teach Yourself to Breathe
I – Invite Others to Help
V – Vent
E – Exercise
I couldn't have asked for a better group, and had some great conversations and took more than a few photos afterwards (which are all on other people's cameras, of course).
For me, it was also a great chance to reconnect and see Kate Farrar of AAUW, and finally meet author and speaker Rachel Simmons in person. Such a treat!
Other highlight from my trip to DC:
– The woman who came up to me at dinner Friday night thinking I was Stephanie Meyer who wrote the Twilight series (to be fair, the restaurant was dimly lit, and Stephanie and I both have darker hair, but she had googled Stephanie, too!). Made my night.
– Dinner at Elizabeth's Gone Raw on L Street. Walk into this place and you are transported to Paris for the evening – seriously. The food is vegan and raw (and delicious), and the restaurant is a Friday night only thing – the rest of the week the building is used for events for owner Elizabeth Petty's Catering Company of Washington (which serves vegan and non-vegan fare). The best kept secret in DC? If you have an event or wedding there, there is no rental fee for the beautiful (and I mean GORGEOUS, you think you're in Paris space). You only pay for catering. So, when I have an event in DC, this will be the place!