Greetings!
It's starting to feel real.
Erasing the Finish Line: The New Blueprint for Success Beyond Grades and College Admission, the book where I share stories of former students, current students, and the work I've done in schools, has a look and feel and message I am so incredibly proud of.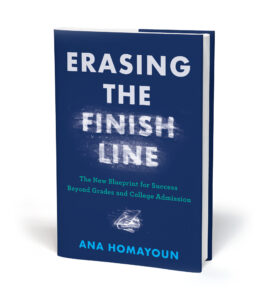 Why did I write this book… really?
I've worked with students for over two decades, and regularly see how getting into a "good school" makes college admissions this faulty finish line to adolescent development. It creates an underlying fear, panic and anxiety that permeates into elementary, middle schools and high schools across the world.
I've seen how it keeps parents up at night and leaves kids feeling overwhelmed and underprepared.
And, it doesn't have to be this way.
Erasing the Finish Line gives us permission to move beyond the hype and focus on the fundamental skills young people need to build their own blueprint for success in life beyond school. It is the book that has been swirling around my head for days, weeks, years, decades.
It is a result of my work with students in my office and traveling around the world to schools, including the three years I spent piloting the Life Navigator School Advisory Program in Charlotte, NC.
This book is practical, hopeful, and solutions-oriented. It is direct, approachable and compassionate, and helps us look beyond the noise and focus on the critically important skills to support students' mental and emotional well-being and long-term prosperity.
As you probably know, pre-orders change the world (or at least, the life and visibility of a book).
And as a thank you for pre-ordering the book, I am offering a fun behind the scenes bonus for the earliest book buyers here.
*** Pre-order the book the before May 31st, 2023 and be invited to a private 60 minute live call where I share:
Extra bonus stories from former students now in their 20s and 30s
Practical tips on what to focus on right now
30 minutes of Q&A where I will answer any questions
Early access to the reading guide
Surprises for those who are able to join live
Please visit www.erasingthefinishline.com for all the details.
Warm wishes,
Ana
PS. The book tour for Erasing the Finish Line will be through planes, trains, automobiles (and Zoom!) – if your school community or corporate group is interested in having me come speak about the book and related topics, please be in touch.