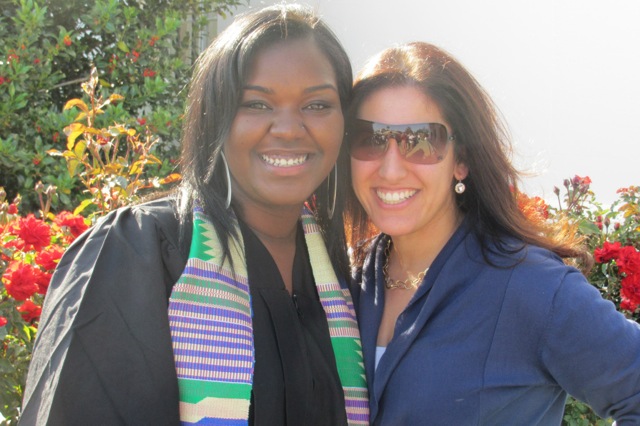 Sometimes, a casual conversation has the opportunity to change your life, and I live by the mantra, "You never know who you might sit next to."
Several years ago, I was invited to a swanky fundraiser for the Boys and Girls Club at AT&T Park in San Francisco. I sat down at a table with several high school students who were Boys and Girls Club members. Within seconds, Julia turned and introduced herself. We quickly started chatting, and were soon knee-deep in conversation. I always find there are people in this world you can just really talk to, and Julia and I seemed to share the same wavelength from the very beginning.
That was over seven years ago. In that time, we've studied for the SATs, worked on college and scholarship applications, shopped for new clothes, gone to freshman orientation, seen each other over summer vacation and holiday breaks, and attended graduation and other events. Julia recently graduated from Loyola Marymount University, and is now living and working in LA. Whenever I am in Southern California, we meet up and go out for a good meal (or three).
Though she calls me her mentor, I am not quite sure that is completely accurate. Mentoring implies that there is a mentor and a mentee, and I certainly feel as though I have been the one to benefit enormously from Julia's enthusiasm, energy, and spirit.
Julia wrote a piece about her experiences growing up in East Menlo Park that was just published in the San Francisco Chronicle entitled "The Priceless Gift of Mentoring" where she discusses the impact of mentoring on her life. I love the line, "Collectively, my mentors have had the single-greatest impact on who I am today. " She wrote it in response to the generous donation of $120 million dollars pledged by Mark Zuckerberg and his wife to Bay Area schools, with $5 million dollars being earmarked for her elementary school in pursuit of more technological innovation. As she argues, better schools and better teachers are only a fraction of what helped her get out of her neighborhood (where less than 50% of teens graduate from high school) and graduate from college in four years. The rest, in her mind, was because of mentors.
I hope you get a chance to enjoy her op-ed, and you find it worthy to share with those of interest. She gives a first-hand account of what made a difference in her life, and I suspect in the lives of many others, as well.