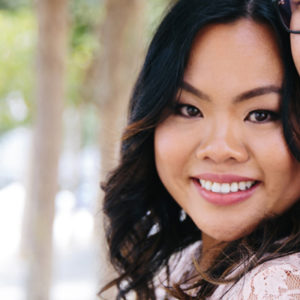 Now and then, I interview individuals who are doing something interesting, inspiring, and entrepreneurial – whether they are pursuing a particular interest, starting a non-profit or business venture, or somehow paved their own way to personal success and happiness. We can all learn from one another on how to better become leaders in our own lives, and I hope you find these conversations as inspirational as I do…  this week, I interviewed Donna Kwan, who I first met in graduate school and is the founder of Joy + Confetti, a wedding planning business.
We originally met in graduate school, where we both received our Masters in Counseling and Pupil Personnel Services Credential. What encouraged you to become a school counselor?
Throughout my undergraduate years, I worked with students in various after school program settings. Majority of the students came from low socioeconomic backgrounds or faced difficult circumstances. However, their resiliency was amazing and inspiring. I wanted to be able to make a positive impact on students' academic and social lives and becoming a school counselor was the obvious choice for me.
You've recently left working as a school counselor to devote yourself full-time to your amazing wedding business, Joy + Confetti (side note: love the name!!). Tell me how Joy + Confetti came about (and how you came up with the name!), what services you provide, and why you decided to make a change?
It was a tough decision to change careers as I've had the privilege of working with some great students and colleagues, but I absolutely loved planning my own wedding a couple of years ago that I decided to take the risk and start my own business. I'm both creative and detail-oriented, and wedding planning is the perfect way for me to apply both skills to help people plan one of the most memorable days of their lives. In addition to planning and coordinating weddings, I also create custom, hand-lettered details like invitations, signage, escort cards, etc. My goal is to help couples create a joyous and fun wedding, and what says fun like confetti? I wouldn't say that I've completely left the education world though – I look forward to mentoring a student this upcoming school year!
When we were in school together, I always admired your amazing (even inspirational) organization skills (in fact, when I saw you are a wedding planner/coordinator, my first thought is that anyone who works with you is SO LUCKY). What are your three tips to keep the wedding madness at bay?
Organization has definitely proven to be helpful! My three tips include:
1. Do your prep work and do it well.
2. Communicate efficiently – don't assume that people will know what you're thinking.
3. Always be ready for surprises – they can and will happen!

You are an incredibly talented calligraphy artist. How did you develop the skill, and what do you do to make sure you don't mess up the envelopes (I ask because I generally mess up envelopes even with regular old handwriting!).
Thank you! Modern calligraphy is so fun in that one can develop their own style, even though the writing techniques are the same. After admiring calligraphers on Instagram and watching videos on Youtube, I decided to buy the materials and teach myself! Regular practice coupled with calligraphy classes here and there really helped me develop and gain confidence in my own style. Messing up is inevitable but I create guides on paper and use a lightbox when writing out addresses in calligraphy. However, for everyday use, I totally recommend The Lettermate – it's foolproof!
For a young woman – perhaps a recent college grad – wanting to work in the wedding industry after college, what advice would you give? What would be something you wish you would have known before doing so?
There are so many career options in the wedding industry: wedding planner, make-up artist, photographer, caterer, videographer, florist, stationer, and many more. I would recommend honing in on your craft and interning with a pro in the field that you're interested in to gain hands-on experience. I also find that the wedding industry is comprised of savvy, business-minded folks, so brush up on basic business skills as well.
In my recent book, The Myth of the Perfect Girl, I talk about how young girls and women often struggle with this pressure to live up to some preconceived standard of success. For creative individuals, the culture of perfectionism can be even more intense – and for a person who has attended highly selective schools and works in a creative field, it can often be debilitating. Do you ever deal with the external pressures of perfectionism, and if so, how do you deal with it?
You hit the nail on the head. It's been a long but defining journey and I've found two things to be the most helpful in dealing with the pressures of perfectionism: positive self-talk and building a community of folks who believe in you. Don't forget to invest in those who invest in you!
What is one thing (or several things!) outsiders often misunderstand about weddings? Or misunderstand about planning a wedding?
Simple, practical weddings can be beautiful and timeless too. It doesn't always have to be glitz and glamour (unless you want it to be)!
What is your favorite way to spend a San Francisco day?
With good company, good food, and good coffee. It's really that simple!
I can really appreciate how busy you are, juggling several different big projects at once. What keeps you sane in times of madness (or as I like to say, in the eye of the storm)? In other words, what are your healthy ways of dealing with stress?
Being creative! Changing up my medium of choice or learning a new artistic skill/technique is always refreshing.
What is the one question you wish I'd asked (and please answer it, too!)
Who is Chloe? 
Chloe is our French Bulldog – she's 3 years old and has quite a personality! She loves sunbathing, belly rubs, and cheese.
And now, for some fun questions:
Dream vacation: Sydney, Australia
Breakfast staple(s): Coffee and oatmeal
Favorite moment at weddings: The moment before the bride walks down the aisle
Favorite restaurant in San Francisco: Izakaya Rintaro
Favorite city to visit: Hong Kong
Last book you read for fun: The Life-Changing Magic of Tidying Up: The Japanese Art of Decluttering and Organizing by Marie Kondo
Best wedding tip: The most memorable details of a wedding are those that are personal to the bride and groom.