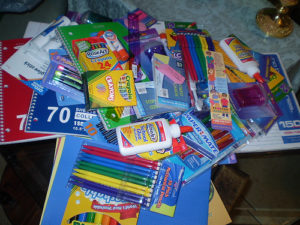 With back-to-school, the number one request I get is around school supplies – what to buy? There is really no one product that does it all for students, but often, the biggest mistake parents and students make when buying school supplies is purchasing supplies that make organization too complicated because there are too many pieces to track down. Students will often come to see us totally overwhelmed, and we quickly find they have at least two or three different places they use to access and store information for each class. If they have six or seven classes, that is a recipe for disaster come November or March.

My biggest tip in purchasing organization supplies is help them consolidate, so that if they went to the library with the binder and textbook (or tablet or computer, if they are at a one-to-one school) they would have everything they need for the class in one place.

The supplies I encourage students and parents to purchase are fairly simple. I find that simple (and relatively inexpensive) supplies help make it easier for a student to create and maintain a workable organization system. And, if and when they get off track (and inevitably, it happens!), it's easier for students to regroup and get back on track. I give links below so you could see what I refer to:

Binders – I recommend hardback, 1″ to 1 1/2″ binders without a lot of the excess accouterments – your child does not need a pocket in the front, because the goal should be everything is filed away in the binder rather than stuffed in the front pocket – I get the view ones so kids can slide in a cover sheet on the front and decorate for each class.

Dividers – 5 to 7 tab dividers, I find the ones where students slide in the tab work best (younger students might need help sliding those in). Have them create different sections for notes, homework, handouts, test/quizzes, and paper – or whatever the teacher recommends.

Reinforced binder paper – I encourage students to use reinforced binder paper for their classes rather than spiral notebooks. It makes it easier to get back on track if they forget something for a day, and ideally all the papers are kept in their binder.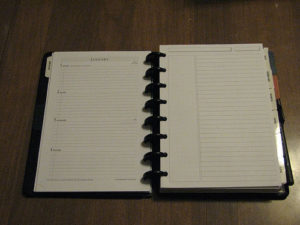 Written planner – Many students (and adults) find that writing things down can be incredibly helpful in terms of prioritizing, and a written planner helps with the all in one place philosophy. I have students map out their week in terms of assignments, activities, appointments, homework time in order to help them plant the seed with ways they can be more organized. Some schools give planners out to students, but for those that don't, I recommend ones with a day to a page so they have more room to write things down. Often, online systems aren't as straightforward, or provide an unintended distraction – the minute a student goes online to "check the homework," 30 to 45 minutes is lost doing other things. There are a lot to choose from, but I like this one from Paper Source the best.
Traveling hole puncher (and a good solid one for home) – The goal is to help students learn to hole punch all their papers and file them away, rather than stuff them in a folder where papers are more likely to pile up and get lost or crumpled.
Reinforcements – To try and avoid those constant tears that make pages fall out of binders…
Much of this comes down to patience and consistency – parents and students can buy the best supplies, but within a week everything can go back to normal if there isn't a routine in place to help build habits, regroup, and create a workable routine.