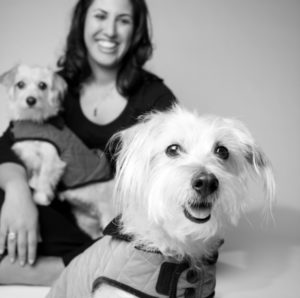 If you've visited my office over the past fifteen years, chances are that you met Mason, my beloved wire-haired terrier mix who was immortalized in this 2008 New York Times article. When he and I first met, I was in my early twenties and was living in an in-law unit above a garage in Menlo Park, CA, trying to figure out what to do with my life. 
Fast forward fifteen years, and what a ride it has been. Those who knew Mason knew how important he was to me. He impacted the lives of so many students, friends, family members, and caregivers who frequently asked about him, and I thought it best to compose an tribute—because what a life he lived! (Special thanks to Amanda Jones for her amazing photography)
Mason passed away peacefully at home on the afternoon of March 28, 2018, surrounded by his family, who loved him dearly. In his fifteen-plus years on this Earth, his gentle spirit brought so much joy to so many people of all ages.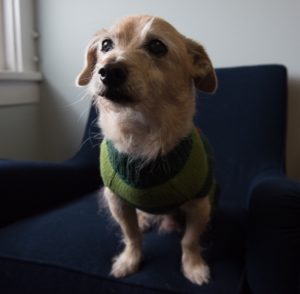 Though his early story remains unknown, Mason was rescued from a high-kill shelter in California's Central Valley and brought to Pets in Need in Redwood City, CA, in early 2003. Not long thereafter, he chose his human companion with a mix of the forceful determination and quiet fortitude he became known for throughout his life—in essence, he refused to leave her lap, and she realized she had no choice but to bring him home.
In their first year together, Mason experienced such severe separation anxiety that his human person brought him nearly everywhere. They also moved apartments twice in the span of three months to find the right living space (and then never moved again).
Naturally nervous and shy, Mason was happiest with his human, and his youthful prance and wide smile often caused people to stop as they were walking down the street—or, occasionally, yell out of cars—to inquire about Mason's breed (mutt) and background (unknown). He's so cute! He looks so happy! He's smiling! Look at that prance! were all familiar refrains.
For nearly fifteen years, Mason came to the Green Ivy offices in Los Altos, CA, where in early years he would sit patiently by a few favorite students, occasionally jumping in a lap or two. He was especially good at identifying quiet students who might benefit from animal emotional support, and would sometimes leave his bed and sit quietly by their chair for the duration of their session. In later years, he mostly slept quietly in the back office.
Throughout his life, Mason attracted fans and friends from around the world. Doctors, nurses, caregivers, former Green Ivy students, and family friends remarked on his extraordinary life force. His sense of dignity and grace were compromised only by the presence of skateboarders, road cyclists, and the two min-pins on the third floor of his apartment building. Because of his likely abusive beginnings in the Central Valley, it was often difficult for him to warm up to strangers, but once someone became a trusted friend, it was a lifelong friendship.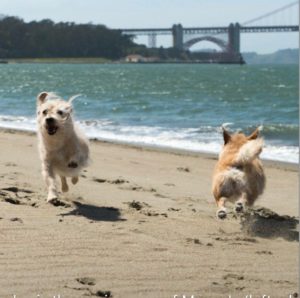 In early 2010, Mason's human person decided to get an exuberant, social terrier named Sallie, who was found in a dumpster in Redding, CA. Mason was immediately both doubtful and reluctant. Dubbed the Ambassador of Joy, Sallie had a spark of enthusiasm that gave Mason newfound confidence and renewed vitality, and the two of them would often prance together in unison down urban sidewalks, through city parks, along coastal beaches, or on trails in the Presidio. They had an adopted-sibling rivalry and love based on having polar-opposite personalities.
In October 2015, Mason was diagnosed with congenital heart failure and given a prognosis of six to twelve months. With a mixture of good medicine and excellent care, Mason was one of less than ~2% of dogs to recover, and he lived another two and a half years, moving through heart failure, kidney failure, and bladder cancer with remarkable determination. He routinely blew through medical timelines and more than once fought his way back from the brink of death.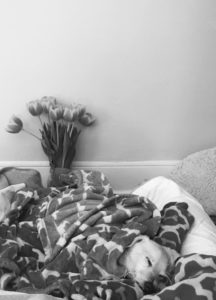 Mason lived a life of simple happiness—he didn't chase balls or toys, and he quietly kept a stuffed pig by his side. He seemed outwardly stoic and reserved, and enjoyed staring out the apartment's corner window to track the neighborhood's happenings or sleeping on one of his many dog beds. He loved his regular routine of 7 am walks at Crissy Field or 9 am walks at Lafayette Park, followed by afternoon jaunts to the Fairmont rooftop garden. He will be sorely missed by so many, but by no one more than his human person.
There were so many amazing people who made Mason's life better by being in it, and we would be remiss not to thank them for their kindness and support. Special thanks to Tender Care Vet Hospital (thanks, Dr. Kate!), Sam's Clinic (thanks, Dr. Hawley!), Sage Vet Centers (thanks, Dr. Ullman, Dr. Roberts, Dr. Sogame, and the entire incredible staff), Lotus Vet Care (special thanks to Shanti, for providing incredible hospice care), Dr. Justin Williams, Amanda Jones (who captured some of our favorite portraits!), Charlotte Richardson, Joan Mapou, and Mason's many human and animal friends. Mason's gentle spirit led such a wonderful life, and it is with such gratitude that he was able to comfortably receive pet hospice care at home in his final days.